Are you prepared for the upcoming computing generation? The answer is Windows 11! This eagerly awaited operating system opens up a world of intriguing new possibilities with its sleek new appearance, strong performance improvements, and sophisticated security features.
Windows 11 features something for everyone, whether you're a gamer, a creative professional, or just someone who wants a quick, efficient, and secure operating system. Let's see the top features in this Windows 11 comprehensive guide and cheat sheet.
A Fast Introduction In The Operating System World
The most essential piece of software that runs on a computer is the operating system (OS). It offers a platform for executing other software programs and handles the hardware resources, including the CPU, memory, and storage.
Operating systems serve as a conduit between the user and the hardware of the computer, allowing users to communicate with it and run the programs they require. There are many different kinds of operating systems, from desktop and server systems to mobile and embedded ones.
Microsoft Windows, macOS, and Linux are the most popular personal computer operating systems. With a market share of more than 75%, Windows is the most widely used operating system, followed by macOS, which is mostly used on Apple computers, and Linux, which is well-liked among programmers and utilized in business settings.
Other operating systems include Unix and Solaris for servers as well as iOS and Android for mobile devices.
Here is a list of top operating systems, in usage volume order:
Microsoft Windows
macOS
Linux (including distributions such as Ubuntu, Fedora, and Debian)
Android
iOS/iPad
Chrome OS
Unix (including variants such as FreeBSD and OpenBSD)
Solaris
IBM z/OS
IBM i
HP-UX
AIX
SUSE Linux Enterprise
Red Hat Enterprise Linux
Oracle Linux.
How Does Windows 11 Compare With Past Versions?
The most recent version of Microsoft's operating system, Windows 11, brings several updates and enhancements over Windows 10.
The redesigned Start menu, which is now located in the taskbar's center and has a more streamlined look with program icons, recently accessed files and suggested content, is one of the most obvious improvements.
The Snap functionality has been improved to support virtual desktops and more intricate window setups. Moreover, Windows 11 offers many performance enhancements, including quicker startup times, longer laptop battery life, and less resource use.
Several security improvements are also included in the new operating system, such as the inclusion of Windows Hello biometric authentication and the adoption of a brand-new security feature dubbed "virtualization-based security."
Generally, Windows 11 outperforms earlier iterations of the operating system and gives consumers a more simplified and contemporary working environment.
To summarize what's new we have listed the most interesting ones here:
New Design: Windows 11 features a sleek new design with rounded corners and a simplified interface that emphasizes content and productivity.
Performance Enhancements: Windows 11 has been optimized for faster performance, with improvements in areas such as battery life, graphics rendering, and app loading times.
Improved Multitasking: Windows 11 introduces Snap Layouts, Snap Groups, and Virtual Desktops to make it easier to multitask and organize your work.
Better Gaming Features: Windows 11 includes DirectStorage, Auto HDR, and other gaming-focused features to enhance the gaming experience on compatible hardware.
Enhanced Security: Windows 11 includes advanced security features such as Windows Hello and the TPM 2.0 security chip to help keep your device and data secure.
More Integrated Microsoft Services: Windows 11 integrates more closely with Microsoft's ecosystem of services, such as Teams, OneDrive, and the Microsoft Store.
Compatibility with Touch and Pen Inputs: Windows 11 is optimized for touch and pen inputs, making it more versatile for tablets and 2-in-1 devices.
Support for Android Apps: Windows 11 will soon offer support for select Android apps through the Amazon Appstore, providing more app choices to users.
Understanding The System Requirements Of Windows 11
Windows 11, Microsoft's most recent operating system, has more rigorous system requirements than Windows 10. To run Windows 11 smoothly on your computer, you need the following:
A 64-bit processor with a clock speed of 1 GHz or higher
4 GB of RAM or more
64 GB of storage or more
A DirectX 12 compatible graphics card or integrated GPU with a WDDM 2.0 driver
A display with at least a 720p resolution
A TPM 2.0 security chip
Support for Secure Boot
It's important to remember that certain older hardware might not meet these requirements, and replacing your computer's hardware could be necessary to run Windows 11.
Might look complicated at first but Microsoft has provided a tool for checking your system before trying to install Windows 11. To check if your computer meets the above criteria, use Microsoft's PC Health Check program.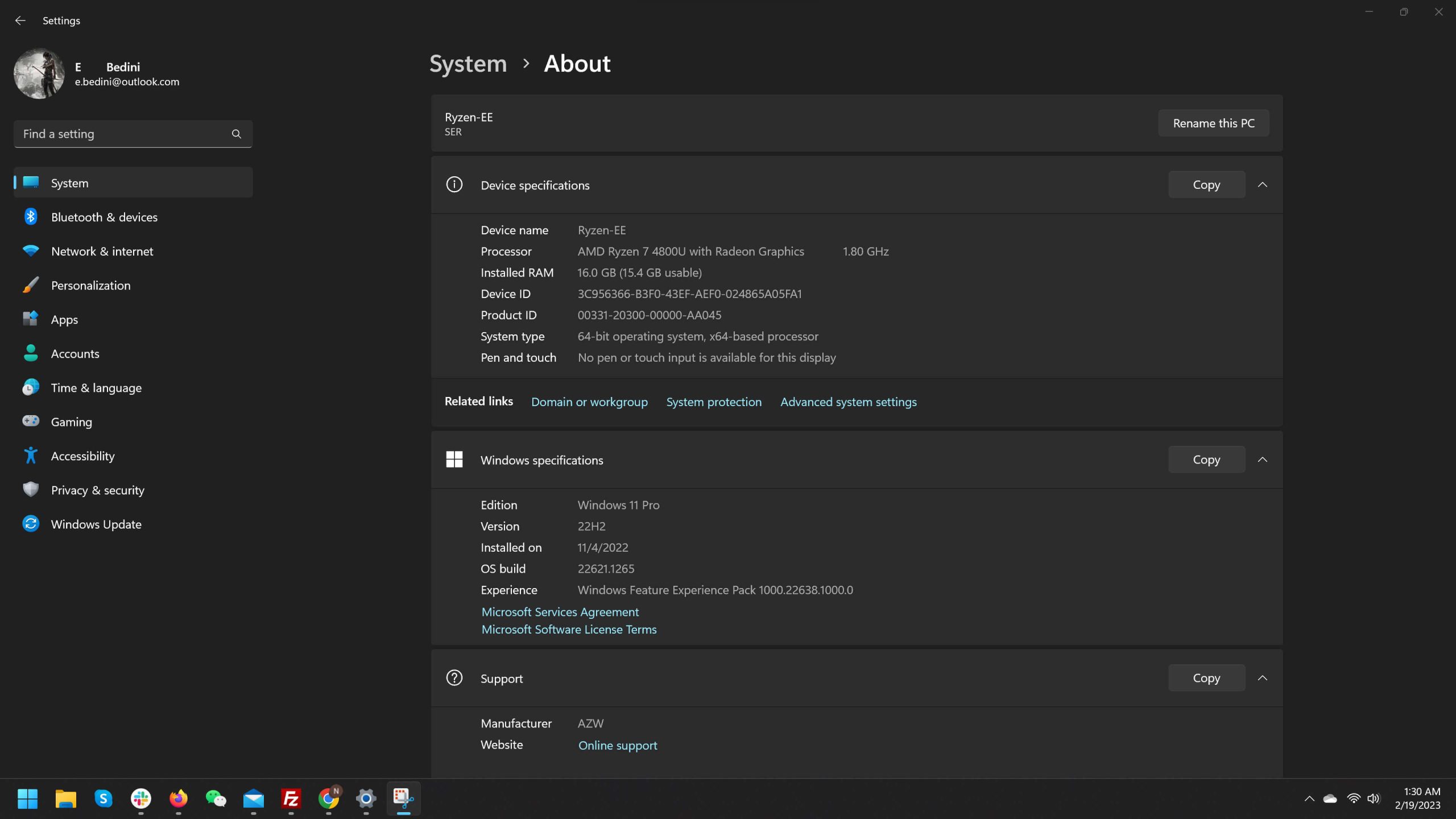 Pro Tip:
For excellent performance, make sure to use an SSD drive. Recent OS is optimized for using an SSD drive instead of the ordinary disk-spin model.
Main Compatibility Issues Reported For Windows 11
We'll examine some of the most well-known compatibility issues with Windows 11 in more detail.
Hardware requirements are too low
Lack of hardware is one of the most frequent causes of Windows 11 compatibility problems. Windows 11 has more demanding system requirements compared to Windows 10, which could run on a variety of hardware.
As a result, the new operating system could not work smoothly on some older PCs. Several users have had issues, in particular, with the requirement for a TPM 2.0 security chip, as many older PCs lack this capability.
Integration with software
Compatibility with apps is another problem with Windows 11. Some software programs that function flawlessly under Windows 10 have reportedly been found to be incompatible with Windows 11.
This is because Windows 11 has a new architecture at its core, and some software programs may need upgrades or patches to function properly on the new operating system.
Problems with driver compatibility
There have also been reports of driver compatibility issues with specific pieces of hardware using Windows 11. This can apply to peripheral devices like printers, scanners, and others whose proper operation depends on drivers.
After upgrading from Windows 10, some customers have reported that their printers or other devices no longer function with Windows 11.
Video game compatibility
Another area where people have experienced Windows 11 compatibility concerns is gaming. On Windows 11, several customers have reported that games don't run as smoothly as they did on Windows 10.
This is probably because of the enhanced gameplay and graphics capabilities in Windows 11, which can call for new drivers or patches from software providers.
Validity of virtualization
Furthermore, there have also been reports of compatibility concerns with Windows 11 and virtualization. Virtualization software like VirtualBox, according to some users, is incompatible with Windows 11. Users who need to run virtual computers for testing or other purposes may run into issues because of this.
Despite being a much-anticipated operating system, Windows 11, it's crucial to be aware of its compatibility concerns. It's crucial to verify your hardware and software compatibility before upgrading to Windows 11 if you're thinking about it.
In the future, it's also probable that hardware and software producers may offer updates and patches to fix Windows 11 compatibility difficulties.
Cheat Sheet of Top 10 Tips and Tricks on Windows 11
Customize Your Start Menu: Windows 11 has a redesigned Start menu, and you can customize it by adding or removing app icons. Simply right-click on an app and select "Pin to Start" to add it to the menu, or "Unpin from Start" to remove it.
Use Virtual Desktops: Windows 11 allows you to create multiple virtual desktops, which can be useful if you need to organize your open windows by task or project. To create a new virtual desktop, click on the Task View button in the taskbar and select "New desktop."
Snap Your Windows: You can easily snap your windows to different parts of the screen by dragging them to the edge of the screen. This can be helpful for multitasking and keeping your windows organized.
Search with Windows Key + S: To quickly search for files, settings, or apps, press the Windows key + S to open the Search bar. You can then type in your search query and see results from across your computer.
Use Windows Key + X for Quick Access: Pressing the Windows key + X opens the Quick Link menu, which provides easy access to commonly used system tools and settings.
Access Emoji and Special Characters: Windows 11 includes a built-in emoji keyboard that you can access by pressing the Windows key + period (.) or Windows key + semicolon (;). You can also access special characters by pressing and holding the corresponding key.
Set Alarms and Reminders: Windows 11 has a built-in alarm and reminder feature that you can access by clicking on the clock in the taskbar. This can help stay on top of important tasks and appointments.
Use Dark Mode: Windows 11 includes a Dark mode, which can be easier on the eyes and reduce eye strain. To enable Dark mode, go to Settings > Personalization > Colors and select "Dark" under "Choose your color."
Use Your Voice with Cortana: Cortana is a voice-activated assistant built into Windows 11. You can use it to set reminders, ask questions, or control your computer with your voice. To access Cortana, click on the search bar or press Windows key + C.
Take Screenshots: To take a screenshot in Windows 11, press the Windows key + Shift + S. This will open the Snipping Tool, which you can use to capture a screenshot of a specific area of the screen.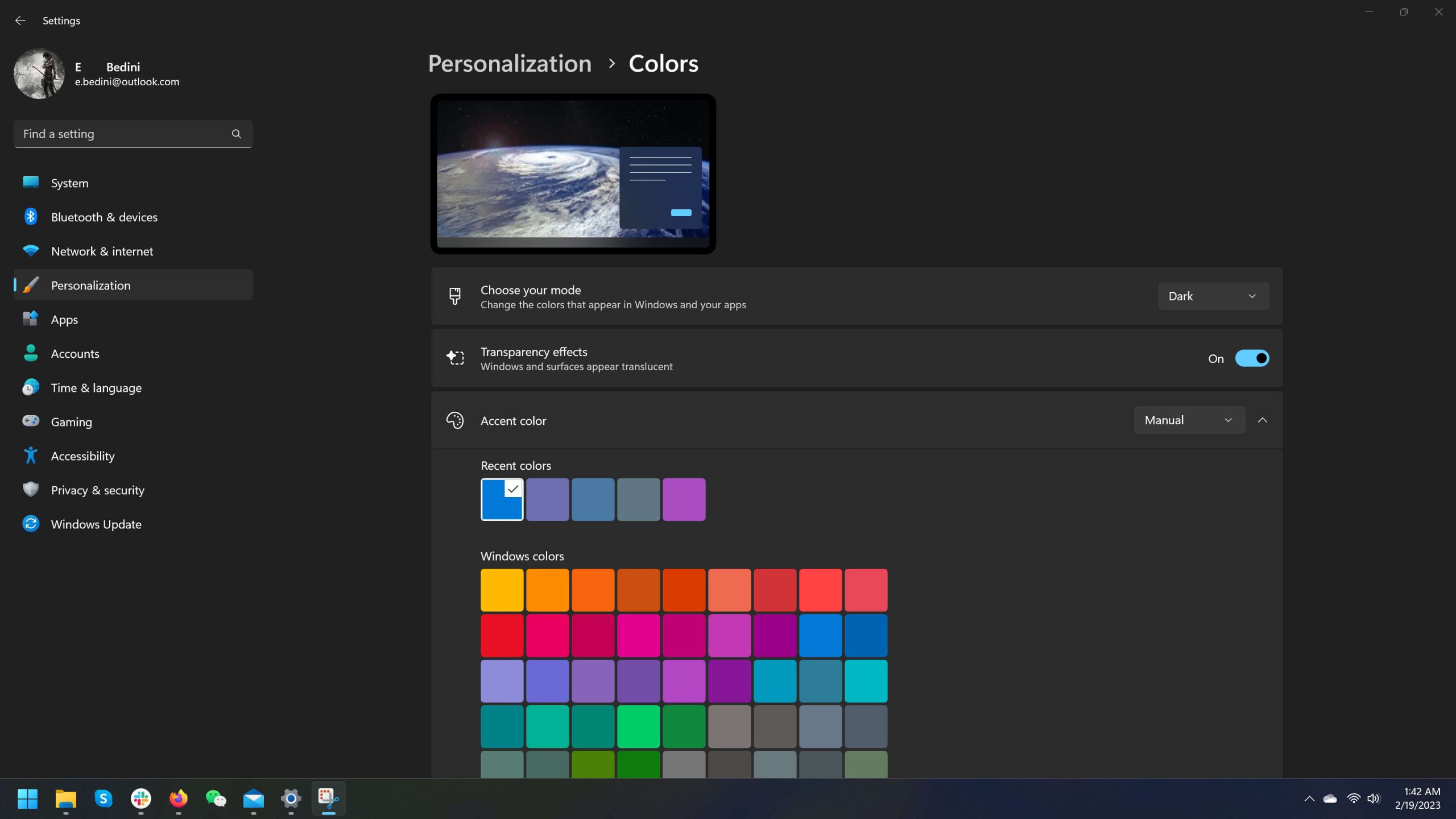 Pro tip:
Do you love dark mode as I do? Windows 11 comes with a very good Dark Mode. To enable it, navigate to Settings – Personalization – Colors – At Choose Your Mode – Select Dark.
Main Security Features of Windows 11
Several new and enhanced security capabilities included in Windows 11 are intended to help shield your device and data from online dangers. Some of Windows 11's most important security enhancements are listed below:
Windows Hello: Windows Hello is a biometric authentication system that uses facial recognition, fingerprints, or a PIN to securely log you into your device without the need for a password.
Windows Defender: Windows Defender is an anti-malware solution built into Windows 11 that helps protect against viruses, malware, and other threats. It uses real-time protection to scan your device for threats and prevent malicious software from running.
Virtualization-Based Security: Windows 11 includes Virtualization-Based Security (VBS) which helps protect your device by isolating sensitive parts of the operating system in a secure environment. This can help prevent attacks that use vulnerabilities in the operating system.
Secure Boot: Secure Boot is a feature that helps ensure that only trusted software can run on your device by checking the digital signature of each piece of software that is loaded during the boot process.
Enhanced Control Flow Guard: Enhanced Control Flow Guard (ECFG) is a feature that helps protect against memory-based attacks by adding additional security checks to the control flow of an application.
Device Guard: Device Guard is a feature that helps protect against malware and other threats by allowing you to restrict the apps that can run on your device to those that are trusted.
Windows Sandbox: Windows Sandbox is a feature that allows you to run potentially malicious software in a virtual environment, isolating it from the rest of your device.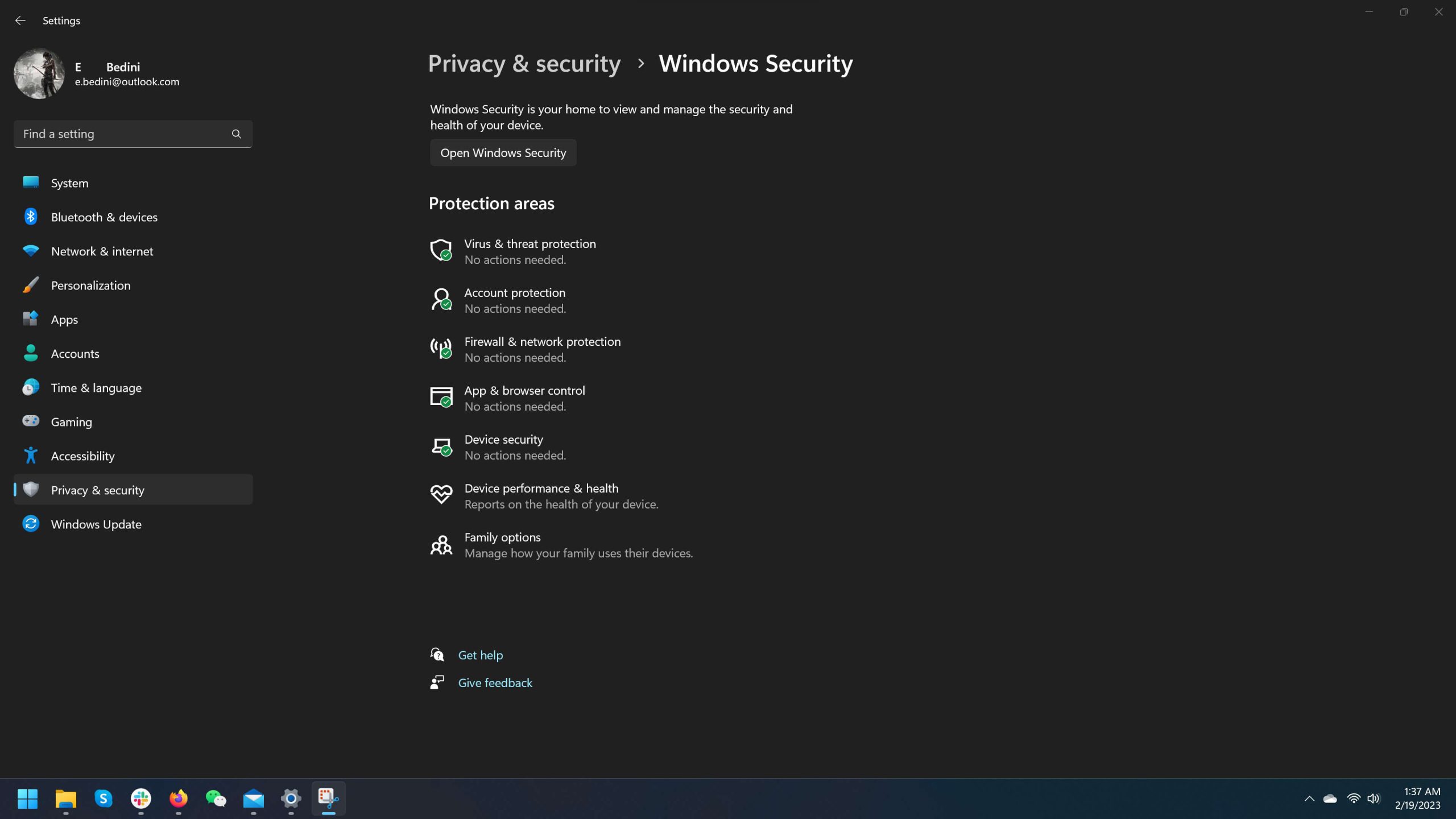 Overall, Windows 11's security features offer a robust and multi-layered approach to device security, defending you against various attacks.
How To Get The Official Microsoft Windows 11
There are a few methods you can do to obtain the official Microsoft Windows 11. You must first determine whether your device satisfies the minimum system requirements, which include a DirectX 12 compatible graphics card, a suitable processor, and at least 4 GB of RAM. Next, check your current Windows version's Windows Update settings for updates.
You will be able to download and install Windows 11 from there if it is available. You can also download Windows 11 directly from the Microsoft website and use the Media Creation Tool to make a bootable USB drive or DVD to install it on your system if Windows Update does not have it available.
You can also take your device to a qualified technician or a Microsoft shop for help if you don't feel confident doing the installation yourself.
We recommend using the official installation method by following this link on the Microsoft website.
Conclusion
In conclusion, Windows 11 is an operating system that has received a lot of attention and offers several intriguing new features and advancements over earlier iterations.
Windows 11 has something for everyone, from its svelte new style to its potent performance improvements and cutting-edge security measures. Windows 11 is a great option if you're a gamer, a creative professional, or just someone who needs a quick, dependable, and secure operating system.
Hence, switch to Windows 11 right away to experience the newest computing technology for yourself.
References:
System Requirements from the official Microsoft Website