What is a hosting service?
A hosting service is a type of service that lets people or organizations put their website, app, or data on servers that the hosting service provider runs and takes care of. The hosting provider is in charge of the hardware on the server and how it connects to the internet.
This gives the website or app that is being hosted access to the internet and often comes with features like website design tools, email services, storage, security, and technical support.
How to choose the right hosting service?
When it comes to picking the right hosting service, might seem hard at first. There are different words for different services. We'll talk about what each one means, but in terms of website hosting, they all do the same thing, which is to make your website available online.
To choose the right hosting service, we need to talk about each technology and how much it costs and then look at the technical specs. Same as with regular PCs, they talk about CPU power, RAM size, local disc/storage size, and their configuration.
The most common terms for hosting services are:
Shared Hosting
Virtual Private Server (VPS)
Cloud VPS
Dedicated Server
Managed/Unmanaged Hosting
What is Shared Hosting?
Shared hosting is a type of web hosting service in which multiple websites live on a single web server and share their resources, such as processing power, memory, and disk space. For people who are just starting to build their website, this hosting option is a cheap and easy choice.
The hosting company takes care of the server's maintenance and management. This gives the client more time and resources. But because the server's resources are shared by many websites, there may be times when performance and resource limits change.
This is called "burstiness," and it can happen when there is a lot of traffic. Even with these possible problems, shared hosting is still a popular way to host a website because it is cheap and easy to use.
What is a Virtual Private Server (VPS)?
A Virtual Private Server, or VPS, is a technological paradigm shift in the world of web hosting solutions. It gives individuals and organizations that want to build a strong online presence a level of customization, control, and scalability that has never been seen before.
It basically gives the user a virtualized environment that works like a separate, dedicated server wrapped up in a larger, shared hosting infrastructure. This gives the user the freedom to install custom software, set up applications, and manage resources like storage, bandwidth, and processing power in a way that is usually only possible on physical servers that are dedicated to one user.
Using virtualization technology also makes it possible to set up multiple VPS instances on a single physical server. This gives organizations that need a high level of reliability, security, and performance a solution that is both efficient and cost-effective.
On the other hand, using this kind of hosting requires technical knowledge in manual server configurations and is not user-friendly for new users who are looking to get a website online fast.
What is Cloud VPS?
A Cloud Virtual Private Server, or Cloud VPS, is a more advanced version of traditional VPS hosting that has the spirit of cloud computing built into it. It offers a unique combination of the benefits of both virtualization and cloud technology.
This makes it a hosting solution that is flexible, scalable, and reliable. Unlike a traditional VPS, which runs on a single physical server, a Cloud VPS uses the power of a network of servers that are all connected to each other.
This way, resources can be distributed and moved around as needed, ensuring the best uptime and performance. This lets resources like storage, bandwidth, and processing power be used in a flexible way, getting rid of the limits of fixed hardware configurations.
Also, using advanced virtualization technologies along with the fault-tolerant nature of the cloud infrastructure makes it possible for automatic failover and disaster recovery, which protects data and keeps business running.
Basically, a Cloud VPS offers a better mix of control, performance, and scalability, which makes it a popular choice for organizations that want to deploy complex applications and workloads that use a lot of resources.
What is a Dedicated Server?
A dedicated server is the best way to host a website because it gives you the most control, the best performance, and the highest level of security. In contrast to a Virtual Private Server (VPS), which is part of a shared hosting infrastructure and has limited resources, a Dedicated Server gives a user full control and unrestricted access to a single server that is physically separated and set aside for their use only.
This gives the user the ability to set up hardware, software, and networking components to meet the exact needs of their application or workload. This results in performance and reliability that can't be found anywhere else. Because the server is dedicated, the user can also install custom software, set up applications, and manage resources like storage, bandwidth, and processing power without other tenants getting in the way.
Also, the server's physical separation gives it a higher level of security because the user is the only one who has access to it and is in charge of its configuration, access, and maintenance. In essence, a dedicated server is a high-end hosting solution for businesses and people who want the most control, performance, and security.
What is the meaning of Managed or Unmanaged Hosting?
Managed hosting and unmanaged hosting are two different kinds of web hosting services.  Managed hosting is a fully managed service where the host takes care of the administration and maintenance of the server infrastructure as well as giving technical support and help to clients.
Unmanaged hosting, on the other hand, is a self-service model in which the client is solely responsible for the administration, maintenance, and configuration of the server environment and must have the technical skills to do so. Despite these differences, both managed and unmanaged hosting solutions are made to give web-based applications and services a platform that is scalable and flexible.
In the end, the choice between managed and unmanaged hosting will come down to the client's needs, preferences, technical skills, and budget.
How to choose the right hosting service for my needs?
After summarizing each hosting model, to answer the above question we need to take into account some main factors. What are your own skills with computers, do you feel comfortable working on a command line to configure a web server like Apache or Nginx?
Do you find it doable to install and connect to a MySQL Database? If the answer is yes then I'd definitely recommend a VPS host for your project as it offers much more freedom of configuration and other settings that a shared hosting can not provide.
For larger projects, a dedicated server is recommended because all the machine's resources will be at your service.
In case you feel more comfortable behind a control panel and manage pretty much everything via mouse clicks, then shared hosting might be your best shot. In a couple of clicks, you will be up and running and caring about building your website rather than the technical details of the host.
We will list below some recommendations for each category.
Best Shared Hosting
For shared hosting to promptly build your website, in matters of clicks. Our top choice is Bluehost.
It is most recommended especially for WordPress websites, blogs, and e-commerce online stores while the cost is very low. With top-notch performance and extreme ease of use panel, it is a no-brain choice.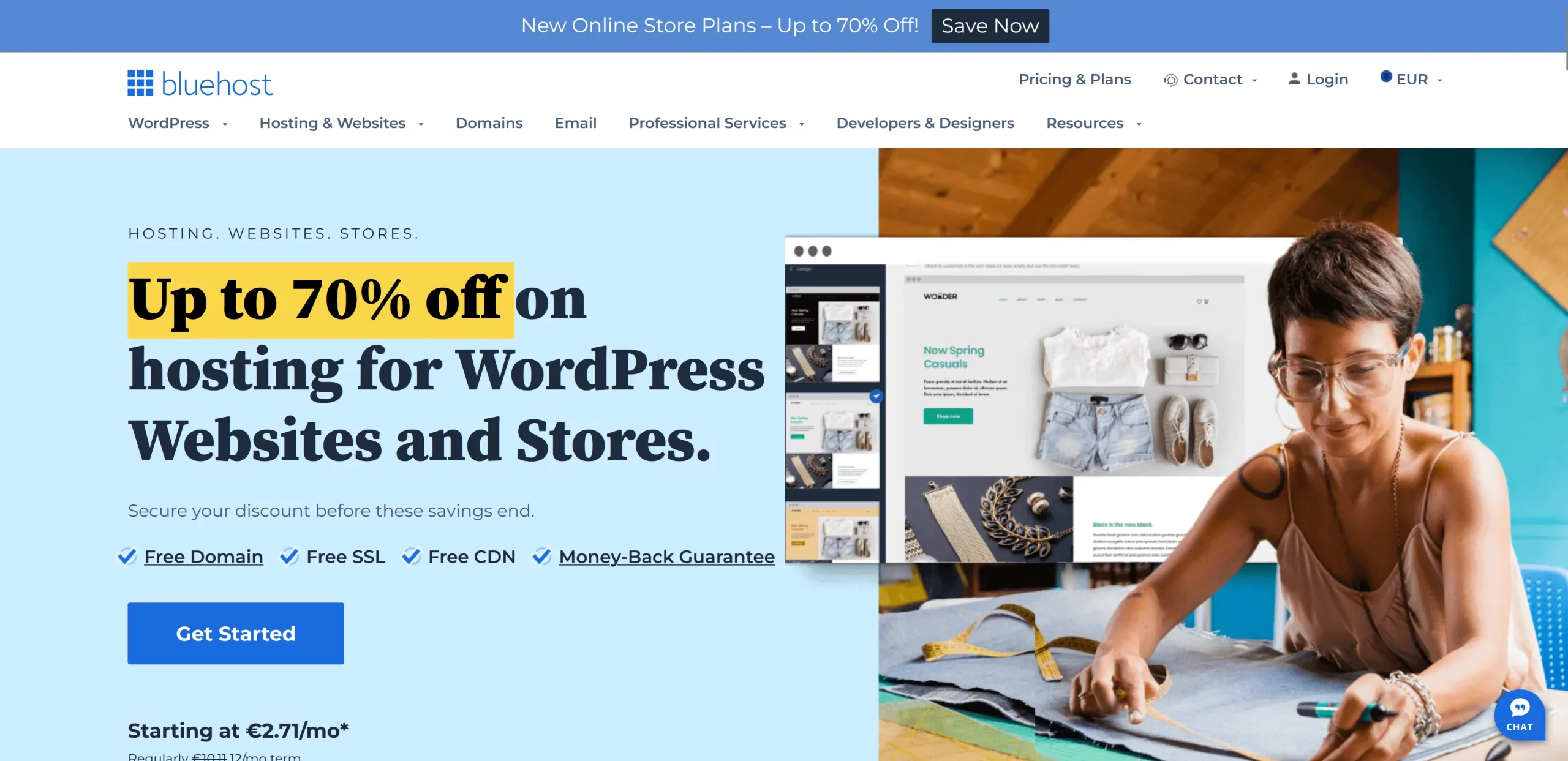 Best Hosting Dedicated Servers in Europe
In this case, I'd suggest Storage.AL is a new hosting service that has recently surprised me. The service is not managed, so I would only recommend it to users who know how to set up a server from the command line and have used it before.
At Storage.AL, all of the dedicated servers are located in Europe. The server delivery is fast and its performance is outstanding.
In another post, I'll talk about why the server should be as close as possible to the people you want to reach and how to make it serve pages as quickly as possible.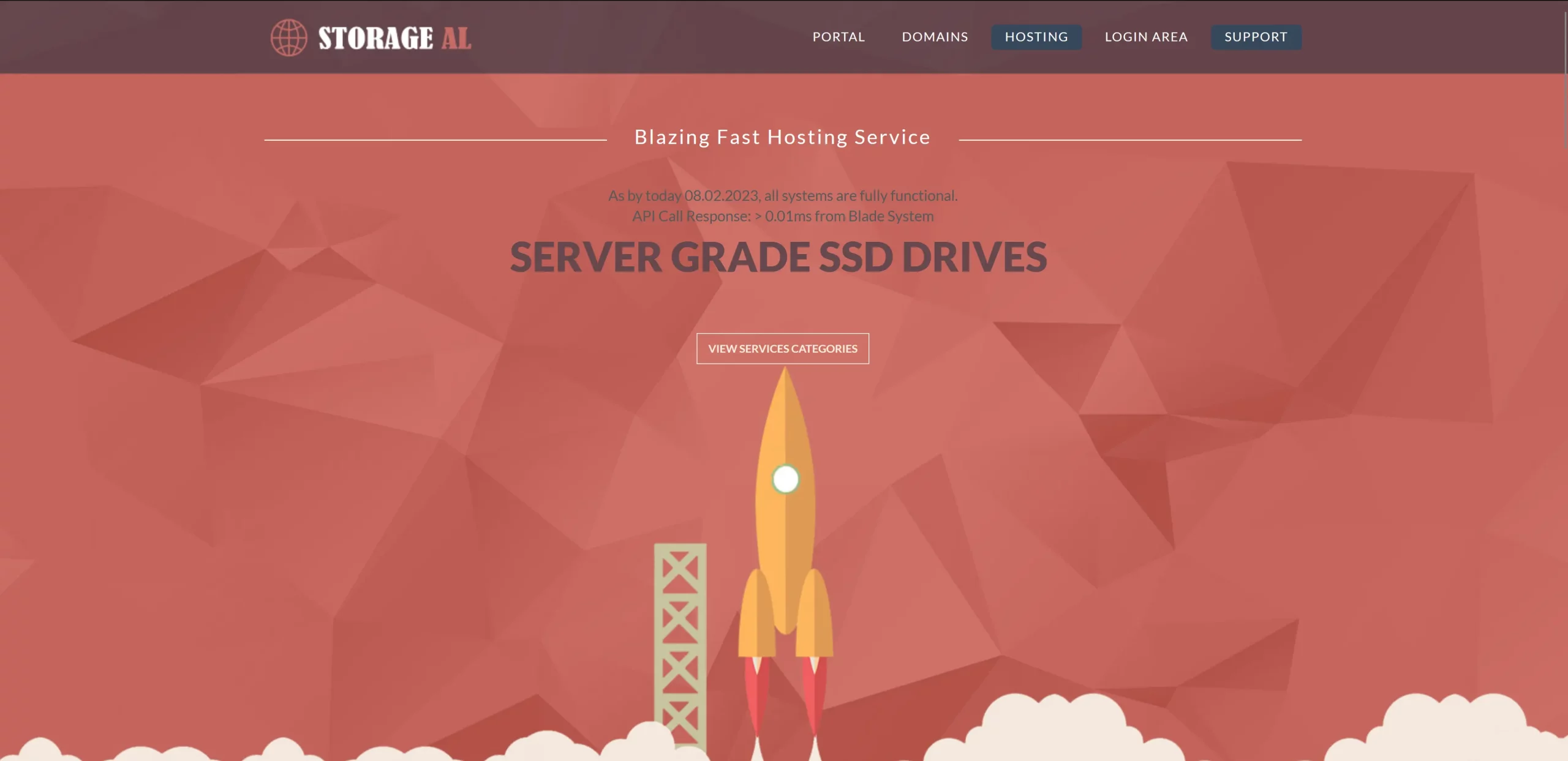 To learn more about web server software check this other article: Web Server Performance Overview: Apache, LiteSpeed, And Nginx.