In a world that seems to spin faster every day, where technology evolves at the speed of thought, we find ourselves craving devices that not only keep up but also lead the way.
I reviewed the Zeblaze Stratos 3, a sports smartwatch that is packed with features and benefits.
Zeblaze Stratos 3 Main Specifications
Let's see the main specifications of this smartwatch which I copied from the official website at zeblazestratos.com
Dial Size: 46.3mm x 46.3mm x 14.8mm (1.82 x 1.82 x 0.58 inch)
Display Size: 1.43 inches
Display Type: AMOLED
Resolution: 466×466 pixels
Brightness: Up to 1000 nits
Glass Material: Corning Gorilla Glass
GPS Positioning: Integrated GPS/GLONASS/GALILEO/BEIDOU with Assisted GPS
Sensors: Gravity sensor, Proximity sensor, Accelerometer, Wrist Heart Rate Monitor, Pulse Ox Blood Oxygen Saturation Monitor
Battery Capacity: 400 mAh Li-pol battery
Charging Method: Magnetic Charging With Pins
Supported Devices: Android 4.4 or iOS 8.2 and above
Language Support: English, Portuguese, Russian, German, French, Italian, Spanish, Turkish, Polish, Japanese, Korean, Indonesian
Water Resistance: IP68
Application: Zeblaze Fit
Features: 100+ workout modes, 24/7 heart rate monitoring, SpO2 monitoring, stress tracking, sleep quality monitoring, Bluetooth calls, notifications, music control, weather sync, sedentary alerts, and more.
The smartwatch features a round dial of 1.82 inches in diameter and a thickness of just 0.58 inches, it strikes that delicate balance between providing ample screen real estate and ensuring comfort.
Stratos 3 is Really Good on Ergonomics
This smartwatch feels incredibly light on the wrist, ensuring that it won't weigh you down during your daily activities. What sets it apart is the thoughtfully designed strap. It's not just a band; it's a key component for enhanced comfort and functionality.
The strap of the Stratos 3 possesses a perfect balance of elasticity and grip, allowing it to snugly adhere to your wrist. This ensures that the sensors on the underside of the watch maintain consistent contact with your skin. The result? Accurate and reliable health data readings that you can count on.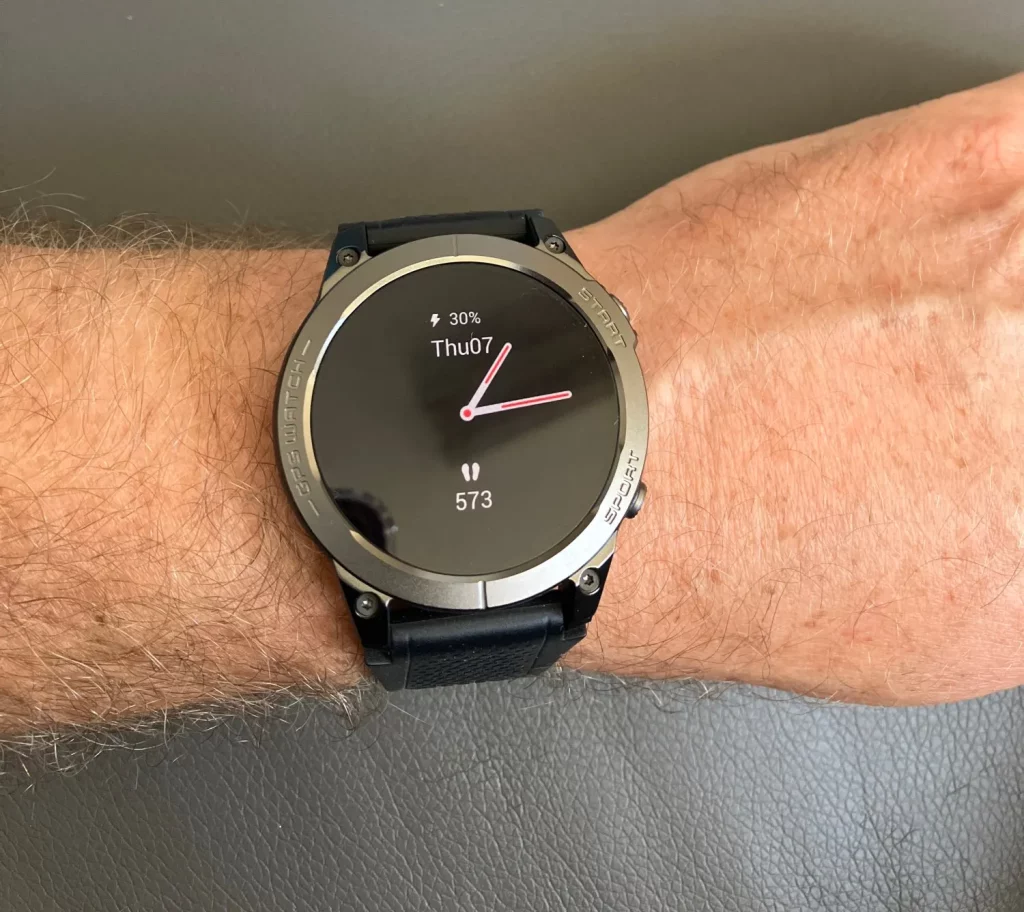 Stratos 3 Long Battery Life Smartwatch
Before talking about the smartwatch details, the first thing that caught my attention was the battery life shown in the official specifications:
Battery Capacity: 400 mAh Li-pol battery.
Standby time in power-save modes: Up to 45 days
Training time in power-save modes: Up to 20 days
Training time with full GPS and HR tracking enabled: Up to 84 hours
Continuous Voice Calling: Up to 545 mins
Charging Method: Magnetic Charging
Theoretical Charging Duration: Approx. 1.5 hours
For full specifications follow this link: Zeblaze Stratos 3 Technical Specifications.
45 days of battery life looked extreme, which means you have to charge it about 10 times per year. However, this longevity seems to be achievable in power-saving mode and during standby.
During my hard testing, the battery was indeed solid and did not start to drain. However, from my testing, I believe that an average mixed-use with no power-saving mode enabled would make the battery last up to 7-10 days.
This is still impressive and far better than many expensive smartwatches.
Experience 24/7 Heart Rate Monitoring with Stratos 3
In the world of premium smartwatches, the expectation for 24/7 heart rate monitoring is standard, and I was eager to see how Zeblaze Stratos 3 lived up to this benchmark. What genuinely piqued my interest was the way it transformed this vital data into visually compelling graphics.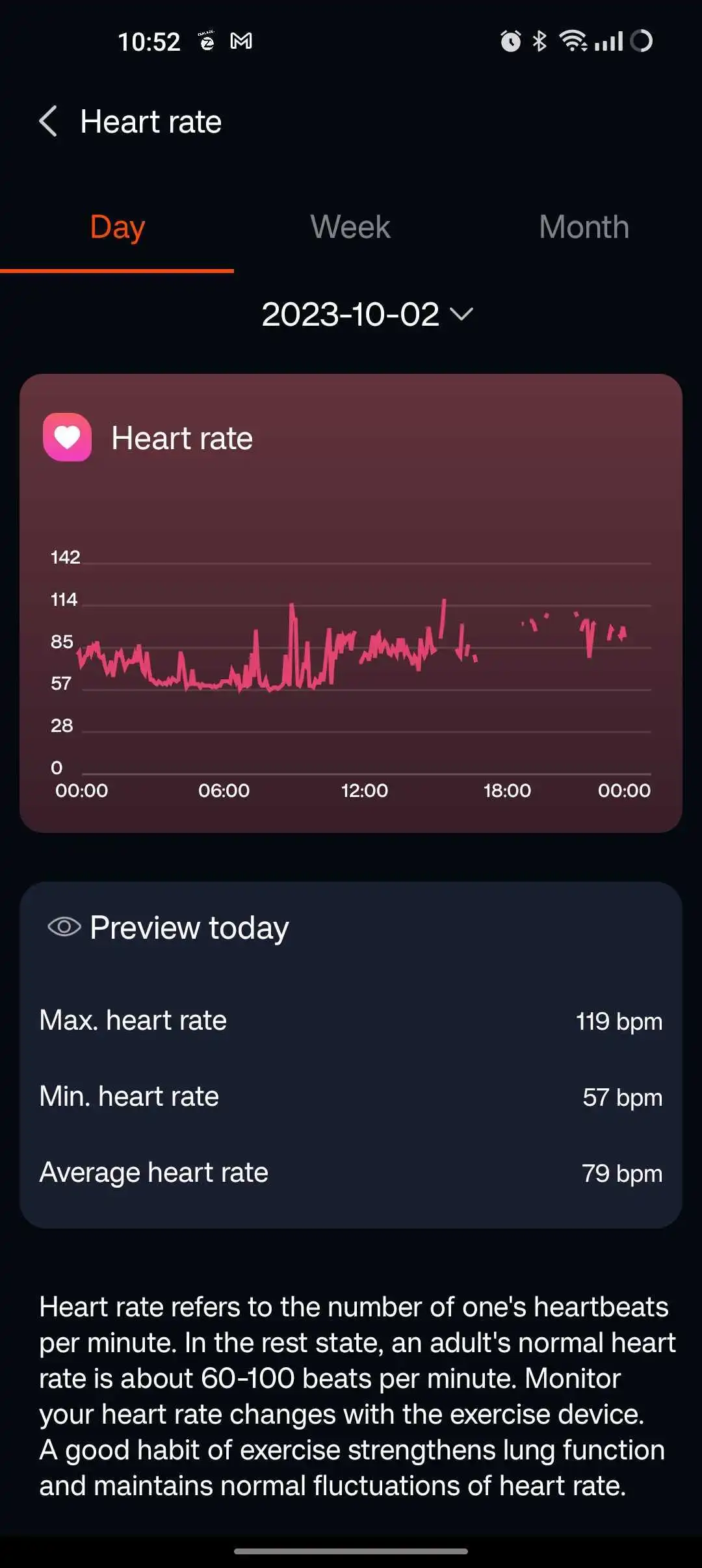 Picture this: a glance at my wrist, and there it was—an intuitive daily heart rate graph displayed right on the Stratos 3's smartwatch screen.
But the real excitement unfolded when I delved into the app. Inside, I discovered a treasure trove of insights with daily, weekly, and monthly heart rate graphs that were nothing short of fascinating.
Now, here's the real game-changer. It's not just about collecting data; it's about harnessing its potential. Armed with this abundance of information, I found myself meticulously adjusting my exercise routines and walking habits over time.
The ability to compare and analyze extensive long-term data was empowering and made every fitness decision more informed.
With Stratos 3, my heart rate wasn't just a number—it became a dynamic story and an ongoing journey.
This smartwatch has elevated my fitness game with its data-driven insights, inspiring me to reach new heights.
My Journey with Stratos 3's Sleep Tracking
I've always believed in the power of a good night's sleep. So, when I got my hands on the Zeblaze Stratos 3, I was eager to explore its sleep-tracking capabilities. It's one thing to hear about 24/7 heart rate monitoring and fitness tracking, but sleep tracking? Now that's a game-changer.
Let's talk about the basics first. The Stratos 3 doesn't just record your sleep duration; it goes above and beyond. Each morning,
I'd wake up and take a quick peek at my smartwatch to find a succinct daily sleep summary. It provided me with valuable insights into the quality of my slumber—how long I slept when I entered deep sleep and those restless moments during the night.
But the real magic happened when I opened the app. There, I discovered a goldmine of sleep data. It wasn't just about daily summaries; I could dive into my weekly and monthly sleep patterns as well. This, my friends, was where the fun truly began.
As the weeks went by, I started noticing trends. Some days I'd get a full night's sleep, while others were a bit more erratic. Armed with this information, I began making conscious decisions to improve my sleep.
Maybe it was adjusting my bedtime routine or simply finding that perfect sleeping position.
The best part? I could see the impact of these changes over time. My weekly and monthly sleep trends began to shift, showing that my efforts were paying off. It was incredibly motivating.
Stratos 3 didn't just track my sleep; it became my silent sleep partner, helping me understand and enhance my nightly routines.
In a world where quality sleep is a precious commodity, having a smartwatch that provides you with daily, weekly, and monthly insights is nothing short of invaluable.
My journey with Stratos 3's sleep tracking has been transformative, and I can't imagine my nights without it.
Featuring 100+ Sports Modes
As I delved deeper into the capabilities of the Zeblaze Stratos 3, one aspect that truly stood out to me was its extensive array of sports modes.
This smartwatch boasts an impressive lineup of over 100 sports modes, making it a versatile companion for fitness enthusiasts and athletes alike. It's a feature-rich powerhouse that leaves no sport untracked.
Upon exploring the watch, I discovered that it offers a total of 10 slots for sports modes directly accessible from the watch itself.
These slots allow you to quickly switch between your most frequently used sports modes, ensuring that you can effortlessly track your workouts without the need to navigate through menus. This convenience is especially valuable when you're in the midst of an intense training session and every second counts.
However, the true versatility of the Stratos 3's sports modes becomes apparent when you connect it to the Zeblaze Fit app. From the app, you gain access to an expansive library of over 100 sports modes, each tailored to specific activities and exercises.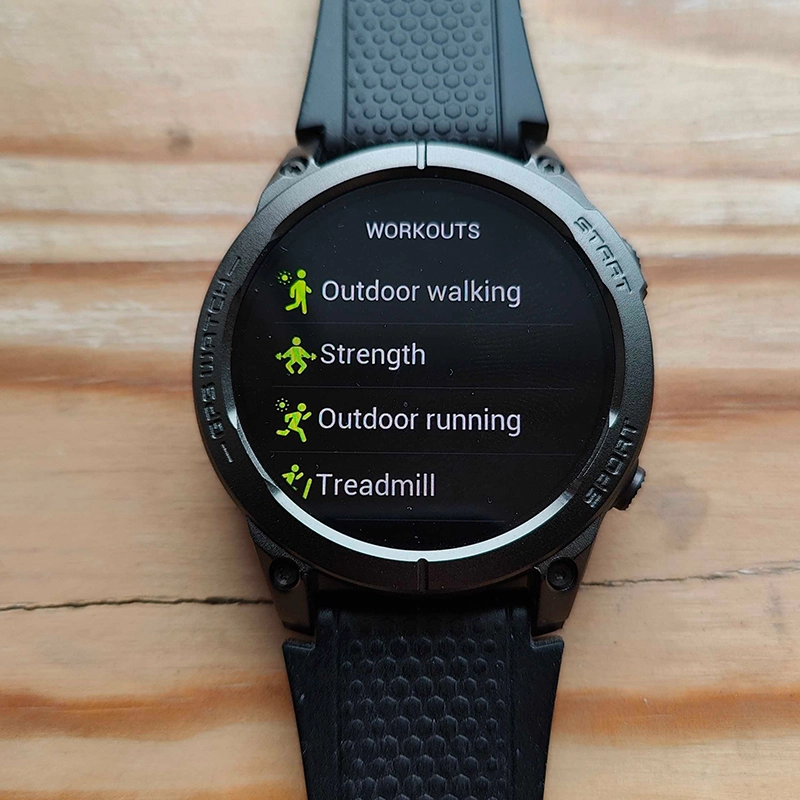 Whether you're into running, cycling, outdoor walking, or exploring niche sports, this smartwatch has you covered. The app's intuitive interface allows you to replace and select from these modes with ease, customizing your Stratos 3 to match your fitness preferences.
It's this level of versatility and attention to detail that truly sets this smartwatch apart. As someone who's deeply invested in my fitness routine, having such a robust array of sports modes at my fingertips has elevated my workouts to a whole new level of precision and insight.
It's not just a smartwatch; it's a training partner that's always ready to adapt to my fitness goals.
Stratos 3 Features Buid-in GPS
When it comes to tracking outdoor activities and exploring new horizons, the Zeblaze Stratos 3's built-in GPS is a game-changer. This feature takes your fitness and adventure experiences to a whole new level, and let me tell you, I've been thoroughly impressed.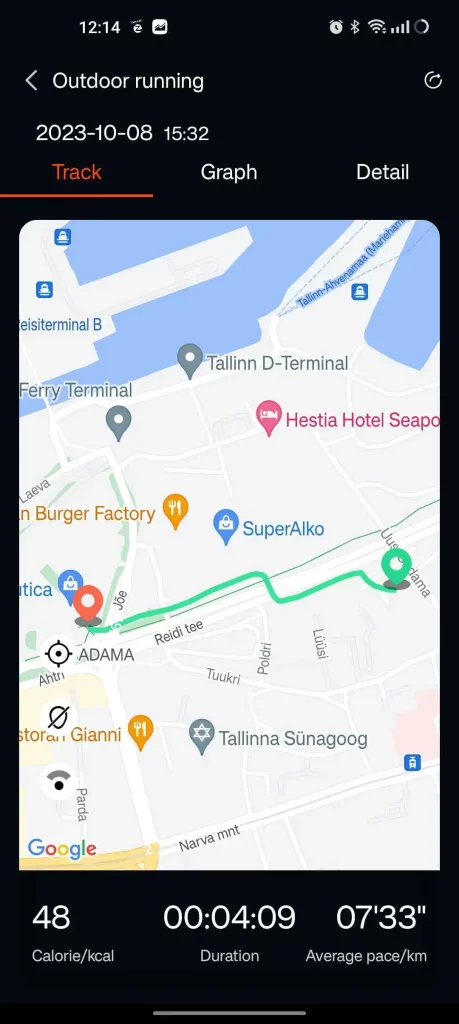 The built-in GPS, seamlessly integrated with GLONASS, GALILEO, and BEIDOU satellite systems, offers pinpoint accuracy in tracking your location.
But what sets it apart is its ability to sync with Google Maps, allowing you to visualize your journey in real time.
As I embarked on my outdoor escapades, I was thrilled to see my route materialize on the Google Maps interface through the Zeblaze Fit app.
The watch tracked my path with precision, tracing every twist and turn, and I could even zoom in to appreciate the finer details of my route. But the magic doesn't stop there.
The Stratos 3 goes the extra mile by overlaying essential health data onto the map. Speed, distance, elevation, and even calories burned are neatly plotted alongside your path, providing you with a comprehensive snapshot of your outdoor adventures.
It's like having a digital travel journal that captures not just the sights but also the physical effort you put into each journey.
This feature has been invaluable in helping me fine-tune my outdoor activities. I can analyze my performance, set new goals, and relive my adventures with every map review.
It's not just about tracking; it's about transforming your outdoor experiences into data-driven adventures.
For someone like me who thrives on both fitness and exploration, the Stratos 3's built-in GPS has become an indispensable tool in my quest for adventure and well-being.
Zeblaze Stratos 3 Supports Calls
One of the standout features of the Zeblaze Stratos 3 is its ability to keep you connected, not just with notifications from your favorite apps but also with phone calls, thanks to Bluetooth connectivity.
While personally, I didn't initially consider this feature a game-changer, I've come to appreciate its convenience and versatility.
Let's dive into the details. The Stratos 3 isn't just about tracking your fitness and delivering timely notifications; it also acts as a bridge between you and your smartphone.
With Bluetooth support for phone calls, you can answer or reject incoming calls directly from your wrist. Now, I must admit that, at first, I was skeptical about taking calls on my smartwatch, but it turned out to be surprisingly handy in various situations.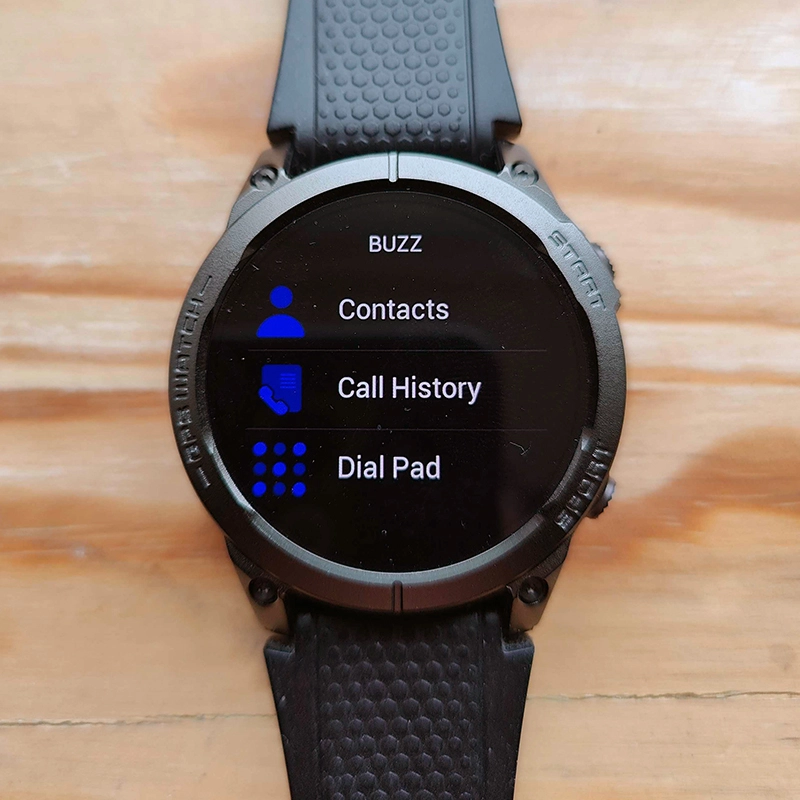 Imagine you're in the middle of a workout or a busy day, and your smartphone is tucked away in your bag or pocket. Instead of fumbling to retrieve it, you can simply glance at your Stratos 3 and decide whether to take the call or send it to voicemail.
It's a small yet effective way to stay connected without missing a beat.
Of course, the Stratos 3's primary strength lies in its comprehensive fitness and health tracking capabilities, but it's nice to have the option for phone calls when you need it.
While it might not be a make-or-break feature for everyone, it's a testament to the Stratos 3's versatility, catering to both active lifestyles and everyday connectivity needs. So, whether you're a fitness enthusiast or simply someone who values staying connected on the go, the Zeblaze Stratos 3 has you covered.
Always On Display Feature
The Zeblaze Stratos 3 incorporates an impressive Always-On Display feature, made possible by its exceptional AMOLED screen technology. This is a game-changer for those who prefer a more discreet way of checking the time or their data.
With this feature, you can avoid the sometimes over-enthusiastic automatic wrist-waking common to many smartwatches.
Here's how it works: Instead of the watch constantly lighting up when you twist your wrist, the Stratos 3 allows you to keep the display on at all times. You have the freedom to choose between digital and analog watch faces, which remain visible even when the watch is idle.
It's as simple as pressing a button to activate the screen or check your data. This not only adds an element of convenience but also preserves your watch's battery life, giving you the best of both worlds.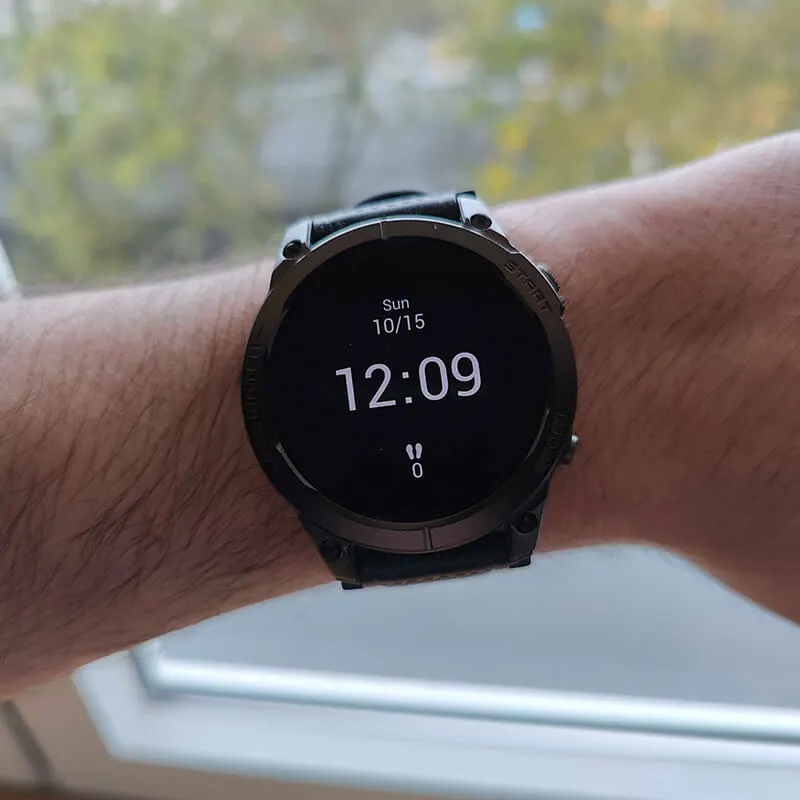 Pros & Cons And Final Conclusion
Cons:
Initial Price Point: The Zeblaze Stratos 3 comes with an initial price tag of $299, which might be considered on the higher end of the smartwatch spectrum. However, it's essential to note that this is the manufacturer's suggested retail price (MSRP), and there's a silver lining.
Limited Discount Period: While the Stratos 3's regular price may seem steep, the good news is that it's currently available at a substantial 50% discount. For a limited time, you can own this remarkable smartwatch for just $149, making it a fantastic value proposition.
Stock Availability: Due to its popularity and high demand, availability may vary. It's advisable to check the official website, zeblazestratos.com, for the most up-to-date stock information and to secure your Stratos 3 at a discounted price while it lasts.
Learning Curve: With its extensive array of features and workout modes, new users may experience a slight learning curve when navigating the Stratos 3's functionalities. However, with time and exploration, you'll uncover its full potential.
Pros:
Exceptional Battery Life: The Zeblaze Stratos 3 boasts an impressive battery life that sets it apart from the competition. With up to 45 days of standby time in power-saving mode, you'll enjoy uninterrupted use without frequent recharging. Even during intense training sessions with full GPS and heart rate tracking, it can last up to 84 hours, ensuring it won't quit when you need it most.
Perfect Size and Build: The smartwatch features a sleek and durable design, measuring 46.3mm x 46.3mm x 14.8mm. Its compact and stylish build ensures it complements your wrist without feeling bulky. Crafted with attention to detail, it combines sporty aesthetics with a business-casual look, making it suitable for any occasion.
Versatile Fitness Support: With over 100 professional workout modes, the Stratos 3 adapts to your fitness journey, whether you're into running, cycling, or other activities. It offers precise tracking of essential metrics like GPS-based distance, pace, and heart rate ranges, making it an ideal companion for your active lifestyle. Its IP68 water resistance adds durability, making it suitable for various environments.
Feature-Rich Experience: The Stratos 3 goes beyond fitness tracking. It's packed with features like built-in GPS, Bluetooth phone calls, and extensive notification support from your smartphone. Additionally, it offers advanced health monitoring, including continuous heart rate tracking, SpO2 measurement, and stress monitoring. It even helps you manage your sleep quality, stay connected, and control your music and camera with ease.
Official Presentation Video
Despite the cons, the Zeblaze Stratos 3 remains an excellent investment, especially with its current 50% discount.
Its long-lasting battery life, comprehensive health monitoring, and versatility in fitness tracking make it a standout choice for those seeking a top-tier smartwatch without breaking the bank. Don't miss out on the opportunity to own this remarkable piece of technology at an unbeatable price.
Get Zeblaze Stratos 3 For $149